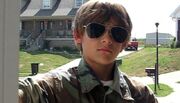 Brackus Marx was a human male who served as General of
Big Red One
and later the B.R.O. mercenary division.
History:
Brackus Marx was one of the original U.N. leaders, but he has turned away from his former title. Brackus had always dreamed of joining the army; not letting his size stop him. When he was offered to lead B.R.O., he jumped at the chance, becoming the military Commander he always dreamed of.
D.W.F. Involvement:
Even though he doesn't lead a nation anymore, Brackus still fights alongside his friend Mordred Sinar and helps him with military applications. Little more than a Mercenary, Brackus travels the universe, searching for fulfilling work.
Personality/Traits:
The first time you meet him, Brackus comes across as a military geek, but in reality, he cares for more than just weapons, tactics, and protocol. He is a dedicated friend who always seems to light up the room. In battle, though, he is as bold and fierce as a lion.
Powers/Abilities:
Brackus possesses great military knowledge; having studied the military since he was young. He knows all about artillery weapons, and has professional gun fighting skills to boot. Although he rarely uses them, Brackus also has Beast Powers, which are similar to Mordred's Dragon Powers. Brackus considers his Beast Powers a curse.